About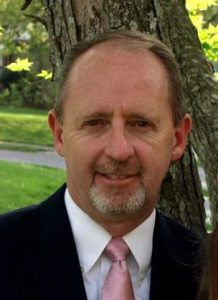 Welcome to the Faculty website of Bob Bayles. I was born on September 1, 1959 in Erwin, North Carolina, the youngest of three sons.  I accepted Christ at the age of 16 on January 1, 1976 after attending a local Christmas play a few weeks earlier.  My grandfather, Ty Fisher, led me to Christ.  I graduated from high school in June, 1977 and basically just worked regular jobs for 4 years. I felt the urge to continue my education at age 21, and though I dropped out of college I eventually finished. I have the B.A. in Bible/Theology, Master of Divinity and the Ph.D. in Educational Studies from Trinity Evangelical Divinity School in Deerfield, IL (2000).  I have been at Lee as a full-time faculty member since 1994 and I love working in the Christian Ministries Department.
I am married to Terrie (we met in college).  Terrie has a degree in Accounting from Lee and taught in the Bradley county school system for 7 years prior to the birth of our last bio child.  She is a stay-at-home-mom and does a wonderful job with our children.  We have three bio kids: Lauren, Brian and Abby and three adopted daughters from China:  Yana, Kathryn and Emily. We have 4 cats (that live outside): Katie, Emily, Baby and Callie.  In May, 2014, my son married his beautiful bride, Michelle.  We are so happy to have her as part of our family – a 6th daughter if you will.
I love to travel.  To date I've been to China, Korea, Africa (Zimbabwe) and Israel.  My favorites places are still in the good 'ol USA, namely national parks and specifically Yellowstone and Cades Cove – 2 of my favorite places in the world.  I love to camp and walk in the woods.  I've frequently taken my kids (or sometimes by myself) to hike the 10 mile loop road in Cades Cove.  I love Asian food and Seafood:  mix the 2 and you have the perfect meal.
We attend Cornerstone Family Church, a 2010 church plant here in Cleveland, TN.  We are a multi-generational family church and we have about 14 families that attend our church.  We love kids and love having them in all aspects of our worship services.
If you'd like to know more about me, please feel free to email me with questions – glad to answer.