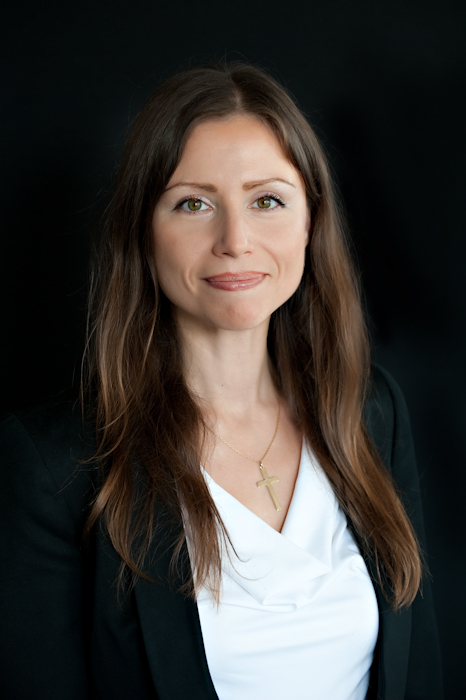 After serving for two semesters as part-time faculty, Daniela Augustine joined Lee's full-time faculty in 2010 as Assistant Professor of Theological Ethics. Prior to teaching at Lee, Dr. Augustine taught at the Bulgarian Theological College, the Pentecostal Theological Seminary, the International Institute for Christian Studies and Charles University in Prague. Augustine has also been a guest lecturer, speaker and presenter at many theological forums and educational institutions, including Princeton Theological Seminary, Bangor University (Wales), Harvard Divinity School, and Regent University.
Augustine's areas of interest and academic research include: Public Theology, Theological Ethics, Interdisciplinary Studies in Social Transformation, Postmodernity, and Globalization, Theology of Economics, Religion and Culture.
She is a member of the Center of Theological Inquiry in Princeton, NJ, where she spent the fall semester of 2005 conducting post-doctoral research on the topic "The Event of Pentecost as a Paradigm for Social Transformation." She is also an active member of the Society for Pentecostal Studies and Pentecostals for Peace and Justice.
A portion of her post-doctoral research at Princeton's Center for Theological Inquiry was published by Eerdmans in A World for All? Global Civil Society in Political Theory and Trinitarian Theology (2011). Among her recent publications are also At the Crossroads of Social Transformation: An Eastern-European Theological Perspective (2010), "Pentecost Communal Economics and the Household of God," Journal of Pentecostal Theology ( vol. 19, no. 2, 2010), "The Empowered Church: Ecclesiological Dimensions of the Event of Pentecost," in John Christopher Thomas, ed., Toward a Pentecostal Ecclesiology: The Church and the Fivefold Gospel (Cleveland, TN: CPT Press, 2010), "Pentecost, Empowerment and Glossolalia," International Journal for the Study of the Christian Church (Volume 11, Issue 4, November 2011), "Pentecost and Prosperity: Between Sharing of Possessions and Accumulating Personal Wealth," in Amos Yong and Katy Attanasi, eds. Pentecostalism and Prosperity: The Socio-economics of Global Renewal (New York: Pelgrave Macmillan, 2012), and "Pentecost and the Hospitality of God as Justice for the Others" in Brethren Life and Thought, special issue, Pentecostals and Brethren, Unlikely Partners for Peace, volume 57, no. 1 (Spring 2012). Her latest book is Pentecost, Hospitality and Transfiguration: Toward a Spirit-inspired Vision of Social Transformation (Cleveland, TN: CPT Press, 2012).
Augustine was the co-founder of the Bulgarian Theological College and served as a Church of God missionary-educator for 11 years in Bulgaria and for seven years in the Czech Republic.
She is married to Rev. Dr. Jonathan Augustine, who serves as the Church of God Regional Superintendent for Central Europe and the Balkans. They have one son, Josiah Christopher Augustine.