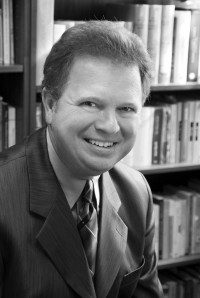 Dean, School of Religion
Professor of Systematic Theology 
B.A., Lee College
M.A., M.Div., Ashland Theological Seminary
Th.M., Ph.D., Princeton Theological Seminary
Terry Cross teaches in the areas of theology and philosophy. A specialist in the work of Karl Barth, he completed his doctoral work in systematic theology.
Prior to his work at Lee, Cross was a pastor for twelve years and a high school teacher of Latin and history. He has been listed in Who's Who Among American Teachers. He was awarded the Excellence in Teaching Award at Lee University in May 2000 and the Excellence in Scholarship Award in May 2001.
In April 2000, a book which Cross and Emerson Powery edited was published in honor of their former teacher, Dr. Donald N. Bowdle. Entitled The Spirit and the Mind: Essays in Informed Pentecostalism in Honor of Donald N. Bowdle (Lanham, MD: University Press of America, 2000), the book brings together more than 20 authors to write in areas of their disciplines.
In addition, Cross has written a book that was published in 2001 by Peter Lang, Inc. A complete revision of his dissertation, the book, Dialectic in Karl Barth's Doctrine of God, appears in a series entitled, "Issues in Systematic Theology." In 2002, he wrote a small book in conjunction with a Lilly Fund project at the university entitled Answering the Call in the Spirit: Pentecostal Reflection on a Theology of Vocation, Work, and Life. This manuscript explores the dimensions of calling with particular interest in the university setting. It should be published within the next year. Currently, Cross is completing a book on ecclesiology entitled, "The Church: A People of God's Presence and Power."
Cross graduated from Lee in 1978, earning the first of several degrees. He later received the M.A. in Church History and the M.Div. in Theology from Ashland Theological Seminary (Ohio). From Ashland, he moved to Princeton Theological Seminary, where he received the Th.M. in Doctrinal Theology and the Ph.D. in Systematic Theology (1991). In the summer of 2002, Cross became the dean of the School of Religion.
Originally from Big Rapids, Mich., Cross came to Lee's faculty in 1997. Since then, he has divided his time between teaching and administrative duties. In fall 2000, he directed the new graduate programs in religion as three new masters degrees were inaugurated.
Terry and his wife, Linda, have one daughter, Tara. Aside from golf, tennis, and racquetball, he enjoys genealogy and Latin.