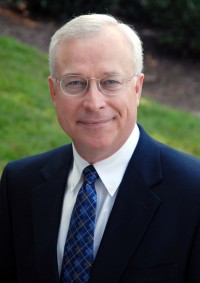 Chair, Department of Theology 
Professor of Old Testament
Dr. Rickie Moore joined Lee as the chair of the Department of Theology in the fall of 2007. Prior to this, Moore had taught part-time at Lee since 1997 and had been a full-time faculty member of the Pentecostal Theological Seminary since 1982. Prior to teaching at the Seminary, Dr. Moore held a teaching assistantship at Vanderbilt University for one year and was Old Testament bibliographer at Vanderbilt for three years.
Moore has been a guest lecturer at various schools around the U.S. and in other countries, including Korea, Honduras, Guatemala, Ecuador, Germany, and China.
His doctoral dissertation on the Elisha stories in 2 Kings was revised and published with Sheffield Academic Press under the title, God Saves: Lessons From the Elisha Stories. A collection of a number of Moore's previously published articles was recently published in a volume entitled, "The Spirit of the Old Testament."
Moore was one of the founding editors of the Journal of Pentecostal Theology—the first academic periodical ever to feature constructive theology from a Pentecostal perspective on an international, scholarly level. Complementing his publication of a number of scholarly articles in this area, Moore is a past recipient of a major research grant from the Association of Theological Schools to study the relationship of charisma and canon in the Old Testament.
He received his PhD and MA from Vanderbilt University and his BA from Lee College.