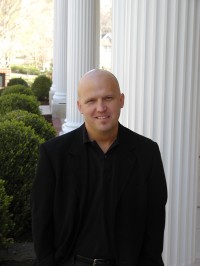 Dr. Michael E. Fuller is a Professor of Early Jewish and Biblical Studies in the Department of Theology/School of Religion.
Dr. Fuller is an alum of Lee University and graduated in 1989. He completed his master's at Princeton Seminary (1994). After Princeton, he continued on to do doctorate studies in Early Judaism/New Testament at Durham University in Durham, England. He completed the Ph.D. In 2005.  His Ph.D. dissertation explored the various models of Israel's restoration represented in Second Temple Jewish texts and in Luke-Acts. A revised version of this study was published in a monograph by Walter de Gruyter/Berlin (2006) through the BZNW series (vol. 138) entitled The Restoration of Israel: Israel's Re-Gathering and the Fate of the Nations in Early Jewish Literature and Luke-Acts.
Fuller teaches introductory courses in both the Old Testament and New Testament and upper level courses in such areas as the Book of Revelation, Early Judaism, Synoptic Gospels and the Gospel of John. He regularly teaches in the graduate program in Religion as well, doing courses in Contemporary Hermeneutics, the Historical Jesus, the Dead Sea Scrolls, and Early Jewish and Christian Apocalpyticism.
Since finishing the dissertation, he has published "The Understanding of John the Baptist in the Gospel of Luke" (T&T Clark, 2008), translations of First Baruch and the Epistle of Jeremiah in The Common English Bible (Abingdon, 2011), a Annotated Commentary on the Epistle of Jeremiah in The Common English Bible, Abingdon, 2013 forthcoming), a translation and introduction to the Sibylline Oracles Books 3-5 (in Early Jewish Literature: An Introduction and Reader, Eerdmans, 2013 forthcoming).
Fuller is an active member of the Society Biblical Literature (SBL) and American Academy of Religion (AAR). He is the co-chair of the Judaism Section for the Southeastern Regional body of SBL/AAR (2012-present).
He loves both teaching and research and understands each to have a reciprocal value to the other as "to read the Bible faithfully is necessarily to read it critically."
He and his wife, Shelia Boland Fuller (Class 1987), have two children, Abbey and Eliot. Fuller enjoys photography, listening to the music of Tom Waits, and most of all spending time with his family and their family pet, a Labrador Retriever named Luna.